OPEN SHOPS!
These are our new products and our material to help you and your clients to be well today and tomorrow to come.
---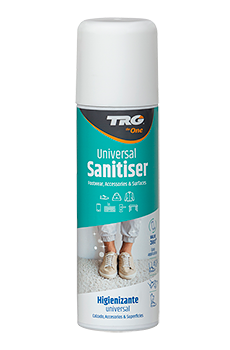 Universal Sanitiser
Stay safe with TRG Sanitiser. TRG SANITISER is a hydro-alcoholic solution with 80% alcohol. Guaranteed to provide a perfect sanitisation of footwear and accessories.
This aerosol is equipped with a 360º valve that allows easy application even when upside down.
Suitable to apply on hard surfaces items as telephones, keyboards, door knobs, etc.



---
Nebulizer 300ml
---
CleanPill
We present you CleanPill! The cheapest product on the market that eliminates 100% the COVID-19 and that has been tested by us and by professional shoe repairs!
It is a time of crisis and solidarity! Don't be fooled!
Contact us for more information and download our guide to return to normal! Let's open the stores!
Documentation
DATA SHEET   
SAFETY SHEET   
CLEANPILL PRODUCT REGISTER
---
Use of the nebulizer